Homeschoolers Selling Used Books Online as a Home-Based Business
1.
Idobooks
. Many living books nicely separated by genre and many biographies. Section of easier living books and listing of $1 books too.
2.
Keller's Books
(specializing in vintage children's books and Catholic materials)
3.
Homeschool Library Builder
4.
Valerie's Living Books
5.
Wholesome Books
Websites for Homeschoolers to Resell or Buy Used (or Never Used) Curriculum or Books from Other Homeschoolers (not running reselling businesses of their own)
1.
Homeschool Classifieds.com.
Free.
2.
Sale Board at The Well Trained Mind site
(present policy: must have posted at least 50 chat forum messages). Free.
Buying Used Books in Your Local Community (in the U.S.A.)
1.
Book Sale Finder
: Find Library Book Sales In Your Area. Can look up sales on the site or sign up for weekly email alerts with parameters you set. Remember to check for book sales when you go out of state on vacation!
Swapping Books Online
1. Paperbackswap.com (click graphic below to link through) is a book swapping site for paperback books, HARDCOVER books and AUDIO books. You mail your books to members and other people mail you the books you want. A good site with an easy system. Get rid of your old fiction, cookbooks, hobby books, old curriculum, outgrown children's books and get new books and curriculum to use in the future.
There is also a discussion group on the site "Homeschoolers Corner".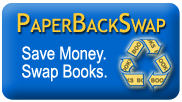 Free Books
1.
Book Samaritan
: Free Homeschooling Materials for Families in Need
List last updated 1/27/09